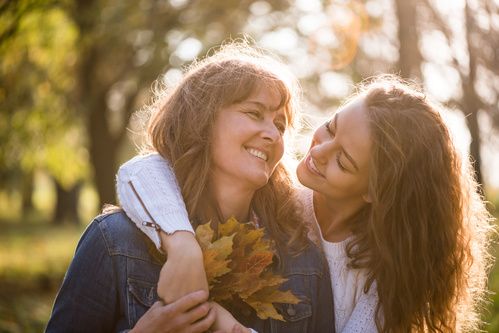 By Jennie (Little) Hohnstadt, daughter of Mary Little, CK Intercessor

This tribute was read by Jennie, to her mother and a group of Covenant Keepers that met at Mary's home in 2014 for a CK Yellow Ribbon Day. We hope it blesses you as much as it blesses us to know that our stands are valuable, even (and especially) to our children. Never doubt that you are making an impact on your children by standing for your marriage. Although they may not have ever said it, your stand matters.
As we were growing up, there were many that didn't understand Covenant and thought that once divorced, mom should go find someone else to make her happy and fill her life. She went against the culture and instead followed God's direction for her life – to stand for the Covenant she made on her wedding day. That meant that she set aside her own happiness and desires. She followed what God had decreed and what she had vowed – to remain faithful to one man until she or my dad passed away. This kind of selflessness is not easy, and my sister and I witnessed that on many occasions, but we also saw Mom's faith in God grow stronger. We saw, modeled for us, what it is to obey God above anything else. That kind of devotion to God is an invaluable lesson and it has served us so many times as we've walked through becoming wives and mothers in our own homes.

There are many more things I could say about what a blessing it was to grow up with a mother who stood for Covenant but mostly I just want to say, "Thanks Mom!" Thanks for all the times when it would have just been easier to be dating or remarried but you stayed true to the vow you made before God. Thanks for all the times things needed to be fixed around here and you took on the tasks without complaining or grumbling and just did what needed to be done. Thanks for showing us what it was to live a life that honored God and put Him first. Thanks for showing us what it was to be not just a reader but a student of the Bible. It's a joy to continue that with you as we meet weekly with others to study through different books of the Bible.
As I close out this short blessing, here are a couple verses I thought fit the occasion:

Joshua 1:7-9 "Be strong and very courageous. Be careful to obey all the law my servant Moses gave you; do not turn from it to the right or to the left, that you may be successful wherever you go. Keep this Book of the Law always on your lips; meditate on it day and night, so that you may be careful to do everything written in it. Then you will be prosperous and successful. Have I not commanded you? Be strong and courageous. Do not be afraid; do not be discouraged, for the Lord your God will be with you wherever you go."

You have been courageous as you've been careful to obey what you heard God speaking to your heart. You've kept things of the Bible always at the forefront and meditated on those things throughout the day. God has been with you and while most of America wouldn't necessarily see prosperity in your modest life, I see your life overflowing with prosperity as you enjoy close relationships with your daughters, sons-in-law and grandchildren. You work at a job that fits you like a glove and that allows you an opportunity to minister to others. You live in a safe neighborhood, in a nice house with everything you need provided for you. God has truly prospered your life as you've sought Him first.

The second verse is:
Psalm 86:15-17 "But you, Lord, are a compassionate and gracious God, slow to anger, abounding in love and faithfulness. Turn to me and have mercy on me; show your strength in behalf of your servant; save me, because I serve you just as my mother did. Give me a sign of your goodness, that my enemies may see it and be put to shame, for you, Lord, have helped me and comforted me."

As I was looking for verses to encourage you, perhaps this is the strongest one I found for today. Verse 16 says "because I serve you just as my mother did." This isn't about me, or my walk with God, but it is about blessing you for your faithfulness and the fact that you're able to witness generations hungering for and learning about God because of the foundation you laid for your family. I love you, Mom. God bless you even more in the coming year!

Now if you don't mind I'd like to say a short prayer of blessing:
Lord, thank you for the gift of this woman as my mother. Please continue to bless her as she seeks after You and desires to know You and put Your will above all things. May she know what a jewel she is to You and how You have prepared her and go with her through all that she faces. Thank You for dying on the cross for our sins and may we never lose the wonder of that grace as we interact with those around us. Please keep us always ready to give an account for the joy that is in our hearts. We love you, Jesus. Amen.


4 Comments
Marilyn Cavar
- November 7th, 2019 at 8:05am
I pray this is the year that the church receives the revelation that we are to lay down our lives and fight the good fight for our families, because it is not about us but about God and His Kingdom pleasures and the next generation. We are to be role models of Christ's Faithfulness to our children.
Starr Lichty
- November 7th, 2019 at 9:11am
Dear God: How beautifully You are represented in this message!
Dear Mary: Your godly testimony has truly impacted your children!
Dear Jennie: You have given God the Glory and have honored your Mother! You have encouraged the rest of us Covenant Keepers and children! God blesses you! And we thank-you!
Robert Bayley
- November 7th, 2019 at 8:13pm
I am grateful amazed, blessed, and somehow reaffirmed to see this letter, just a couple days after the letter from Micah, recognizing the devotion and strength of their respective parents. Last Saturday, I spent all day in a group with Deb Routon. Sunday, I was on a group call with Mary Little. God prepared an absolutely beautiful gift for me, that these women are two of the people in my circle as I struggle through this storm. I hope that I will some day turn out to have provided a similar example and testimony for my kids.
Deana Bell
- November 8th, 2019 at 6:20pm
Robert, I am personally so encouraged by your comment. Thank you for taking the time out to do so. I knew when I decided to post this week's blogs that God was up to something.....he reminded me of each testimony and encouraged me to print them in this order, both on the same week. One , shows the gratitude of a child for parents standing on covenant where the marriage was restored. The other, shows the same gratitude and honor, but the marriage has not YET been restored, (and I emphasize YET) To me, this is an encouragement to STAND either way.....the same honor and gratitude is there regardless of the current outcome. And I believe the HONOR and GRATITUDE is there because in BOTH circumstances the parents chose to FOLLOW THE LORD.